Indications :

Stiff shoulders, lower back pain, bruises, sprains, joint pain, muscle pain, muscular fatigue, chilblains, bone fracture pain

Cautions :

Be sure to remove ROIHI-TSUBOKO™ before taking a bath. If you take a bath with the plaster attached, you may experience a burning sensation in the area where the plaster is attached.
Be sure to remove ROIHI-TSUBOKO? 30 minutes to one hour before taking a bath.
Please be careful when using ROIHI-TSUBOKO™ in combination with other heat-generating devices (kotatsu foot warmer, electric carpet, disposable heating pads, electric blankets, etc.) as this may intensify the heat stimulation.
haracteristics of ROIHI-TSUBOKO™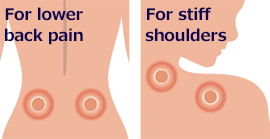 This is a small round-shaped heat-type medical patch (plaster), the active ingredient (4-Hydroxy-3-methoxybenzyl Nonylic Acid Amide) of which produces tingling heat stimulation that improves the blood flow in the affected area, relieving shoulder stiffness and lower back pain.
Easy-to-apply
round shape This round, 2.8 cm diameter sized plaster is easy to apply and pinpoints spots needing relief. Despite its surprisingly small size, the plaster soothes quickly with a tingling heating effect. Box contains a convenient 156 plasters.
Tingling heat
stimulation Heat stimulation due to the action of 4-Hydroxy-3-methoxybenzyl Nonylic Acid Amide, which is similar to substances found in chili peppers, encourages blood circulation in the affected area, ameliorating stiffness in combination with methyl salicylate and anti-inflammatory ingredients such as L-Menthol. Only a heat-type plaster can produce the hot warming effect that strikes at the core of the stiffness and pain.
Wow! Barely noticeable!
Amazing! Adheres firmly The plaster is a beige color that blends with the skin (in other works, skin-tone), so unless you look at it up close, it is barely perceptible to the eye. Not only that, the plaster has outstanding adhesiveness!
Using NICHIBAN's unique technology cultivated through tape manufacturing, the plaster fits perfectly against stiffness in the shoulders and other areas of the body and does not easily fall off, even with vigorous movement. In fact, the plaster feels so comfortable on the skin, you'll forget its even there.
Wow, no staining! These plasters are made with rayon cloth, which is water-resistant and highly durable, preventing mild staining. In this aspect, too, please enjoy the essence of NICHIBAN's technology, which is continuously developing adhesive plasters that give careful consideration to the skin.